When it comes to wholesale bottled mineral water, a wide range of packaging options is crucial for better branding and consumer appeal. A well-designed label can significantly enhance the overall packaging and catch the attention of potential customers. Let's explore some of the diverse options available for wholesalers to create a better packaging experience.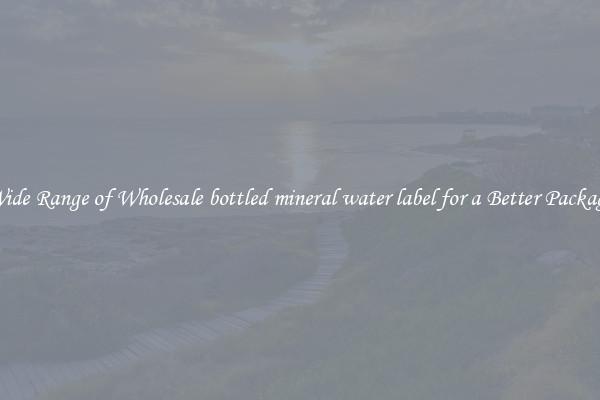 Firstly, custom labels provide an excellent opportunity to showcase a brand's unique identity. Wholesalers can work with graphic designers to create labels that reflect their company's values and mission. Whether it's a minimalist design, a vibrant pattern, or a sophisticated logo, a custom label can set a brand apart from the competition. Moreover, incorporating relevant information such as the water's source, mineral content, and certifications on the label can help build trust and educate consumers about the product's quality.
In addition to custom labels, wholesalers can opt for a variety of label materials. This choice allows for different aesthetic effects and can suit various bottle designs. For instance, a matte finish label exudes elegance and can be a perfect fit for high-end products. On the other hand, a glossy finish might be a better option for a more vibrant and eye-catching label design. The ability to choose from a wide range of label materials ensures that wholesalers can find the perfect fit for their product and target market.
Furthermore, label shape and size can also contribute to a better packaging experience. Some wholesalers may opt for traditional rectangular labels, while others may explore unique shapes to make their product stand out. Curved labels can be particularly appealing for bottles with unconventional shapes, as they can perfectly conform to the bottle's surface. Additionally, variable label sizes allow wholesalers to adjust their branding strategy according to different bottle sizes or product lines, providing a cohesive look across their range of offerings.
Another packaging aspect to consider is label printing techniques. Advances in printing technology now offer wholesalers various options to enhance their labels' visual appeal. For example, incorporating metallic foils or embossing can add a touch of luxury to the packaging. Moreover, using techniques such as spot UV printing can highlight specific elements on the label, drawing attention to key information or design details.
In conclusion, a wide range of wholesale bottled mineral water labels is crucial for better packaging and brand differentiation. Custom labels, choice of materials, label shape and size, and printing techniques all contribute to creating an attractive and cohesive packaging experience. By investing time and effort into designing the perfect label, wholesalers can enhance their product's appeal, engage consumers, and ultimately improve their chances of success in the competitive market.